**APRIL 19, 2020 NPF COVID-19 UPDATE PLEASE READ THE FOLLOWING CHANGES CAREFULLY**
As you all know this past week we got a detailed look at the plan of action for reopening our businesses, to include gyms and event spaces. While much is left to determine an exact timeline, and given that the rate of which each individual state can safely navigate through the 3 stages will most certainly vary, and additionally the limitations that have been invoked upon events and public gatherings, it is a foregone conclusion that our rescheduled date of May 31, 2020 for Battle of Ohio/Mr & Ms Pro Ohio will have to be canceled with no current plans to reschedule.
We regret this unavoidable loss of our fast growing and exciting annual NPF Columbus event, and even more so, share the pain of those of you that were hanging in there and prepping despite home workouts and limited dieting capabilities.
The ALL NEW EXCITING NPF STRENGTH GAMES that were slated to run with Battle of Ohio, WILL BE RESCHEDULED with the new date announced sometime in May.
NPF 101 CLINIC that was originally scheduled for March 21, 2020, and then POSTPONED TO APRIL 26 will be POSTPONED once again with the new date announced once again sometime in May.
**WHAT YOU NEED TO DO MOVING FORWARD**
You can do one of the following:
Transfer your registration to any NPF event on the 2020 schedule where your divisions are offered. If you wish to apply your paid registration to another NPF contest notify me by email at [email protected] with your intent to move your entry to another show stating which show you want to transfer to.
2020 REMAINING SCHEDULE
► July 25, 2020 Vegas Fitness Model Search, Rio Hotel & Casino, Las Vegas, NV
► **DATE TBA- LATE SUMMER 2020 NPF Muscle Party Classic (NPF PQ & NPF 2020 Sandows
payout classes qualifier) Athens, OH
► DATE TBA- LATE SUMMER OR FALL 2020 NPF Strength Games, Columbus, OH
► November 7, 2020 NPF Las Vegas Open (NPF PQ & NPF 2020 Sandows payout classes
qualifier) Las Vegas, NV
► November 21, 2020 NPF Sandows PRO/AM (NPF PQ) Natural World Championships
Columbus, OH
Transfer to the April 24, 2021 NPF Battle of Ohio/PRO Mr & Ms Ohio taking place in Columbus, Ohio. If you wish to apply your paid registration to the 2021 NPF Battle of Ohio/Pro Mr & Ms Ohio notify me by email at [email protected] with your intent in writing.
If none of the above will work for you, simply contact me direct at [email protected] and ask for a refund. You will receive 100% OF YOUR MONEY BACK.
If you do nothing, your contest entry will automatically transfer to the November 21, 2020 NPF Sandows PRO/AM (NPF PQ) Natural World Championships being held at OUR NEW VENUE upgrade, the incredible, state-of-the-art, Northland Performing Arts Center in Columbus, OH
If you have already paid for the NPF 101 Clinic and don't want to reschedule to the soon to be announced new date, again, contact me direct at [email protected] and ask for a refund. You will receive 100% OF YOUR MONEY BACK.
We hope you all are staying active and healthy and can't wait to see everyone in contest shape soon. In the meantime, if you have any questions or concerns, please don't hesitate to reach out to me here, or by email [email protected]
Stay well,
Bob Baldwin, NPF President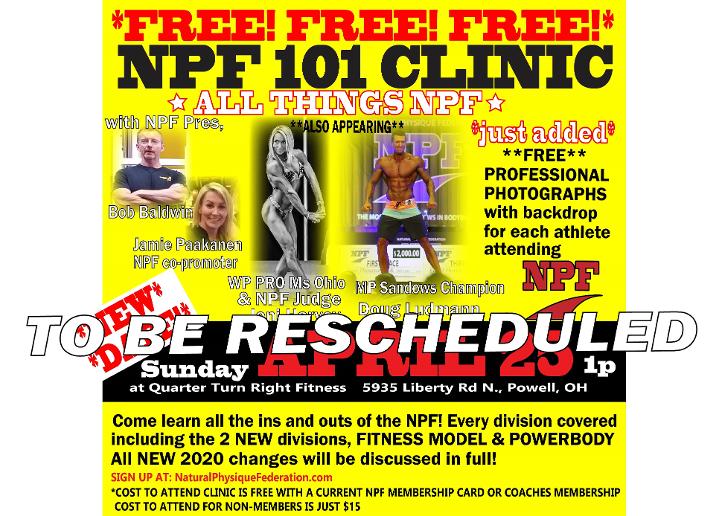 If you hold or have recently purchased an NPF Membership card (amateur or pro), or you hold an active NPF Coaches Membership you DO NOT need to purchase a ticket for the clinic. You can register directly by emailing Bob at [email protected] and stating that you wish to attend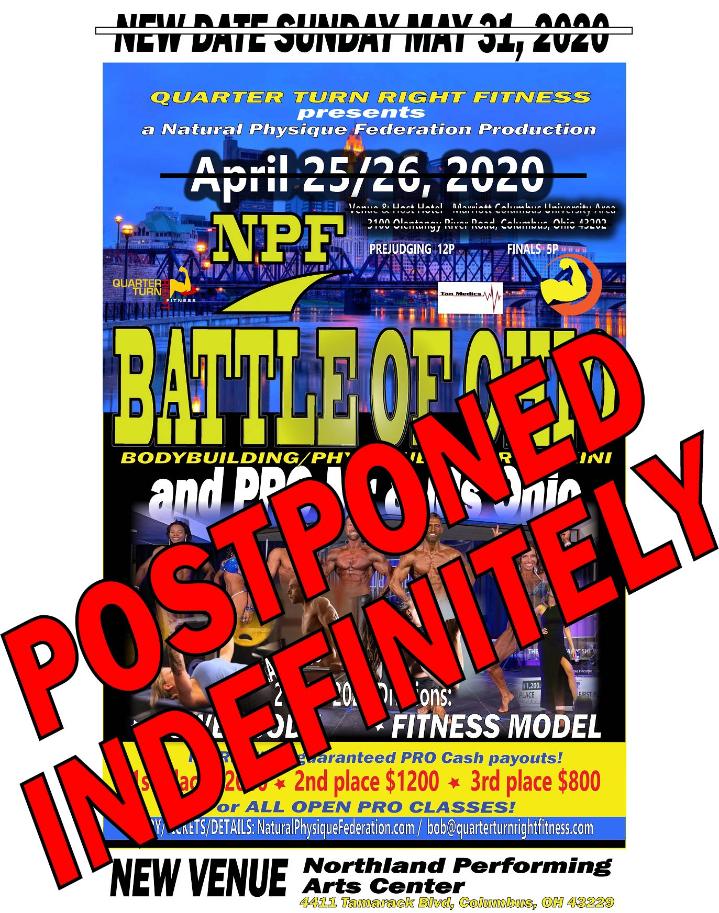 **CANCELLED** 2020 NPF BATTLE OF OHIO & PRO MR & MS OHIO **CANCELLED**
ORDER OF EVENTS
ALL Saturday events take place at our host hotel TBA
Saturday, May 30 – at host hotel
5p – 6:30p Mandatory Check-ins for ALL athletes
5p – 6:30p Random Drug Testing
6:30p – 7p PRO Athletes Media Interviews
4p - 5:30p Tanning Ladies (Room # TBA)
6p – 7:30p Tanning Men (Room # TBA)
Sunday, May 31 – at Northland Performing Arts Center
9:30a WILL CALL ticket table opens outside the entrance to the theater
10a Tickets go on sale for both Prejudging & Finals outside the entrance to the theater
11a Competitors' Meeting in the theater
~11:30a Doors open to public immediately following competitors' meeting
12p PREJUDGING in the NPAC theater to follow this *tentative* order:
(*Order subject to change based on competitor entries)
Prejudging of amateurs in this order
Teen Men's Physique
Power Body (Men and Women's lifting round)
Teen Bikini
Novice Men's Physique
Novice Bikini
Masters Men's Physique
Masters Bikini
Open Men's Physique
Open Bikini
Novice Bodybuilding
Novice Figure
Masters Bodybuilding
Masters Figure
Open Bodybuilding
Open Figure
Transformation
Fitness Model (fitness attire round)
4p Tickets on sale for Finals outside the entrance to the NPAC theater
4:15p Competitors' Meeting in the NPAC theater
4:30p Doors re-open to public for Finals
5p FINALS in the NPAC theater and to follow this tentative* order:
(IMPORTANT NOTE: Additional drug testing to resume during and/or immediately following Finals)
Routines & awards for amateurs following the same division order as prejudging
Power Body (physique judging round)
Power Body Awards
Fitness Model (evening formal wear judging round)
Fitness Model Awards
PRO Figure live judging, individual routines & awards ($4000 payout)
PRO Men's Physique live judging, individual routines & awards ($4000 payout)
PRO Bikini live judging, individual routines & awards ($4000 payout)
PRO Bodybuilding live judging, individual & awards ($4000 payout)
Best Pro in Show Award
Team Award
SPECIAL HOST HOTEL &ROOM RATE TO BE ANNOUNCED
Easy Online Entry for the 2020 NPF Vegas Fitness Model Search will be open on Friday, April 17th. This contest will feature ONLY our women's brand new Fitness Model division. All division criteria as per NPF rules will apply. Those who register and compete in the 2020 NPF Vegas Fitness Model Search will receive a 50% discount on registration to the 2020 NPF Vegas Open - Fitness Model division - also taking place in Las Vegas, on November 7, 2020. For full details on division rules and criteria for the Fitness Model division CLICK HERE.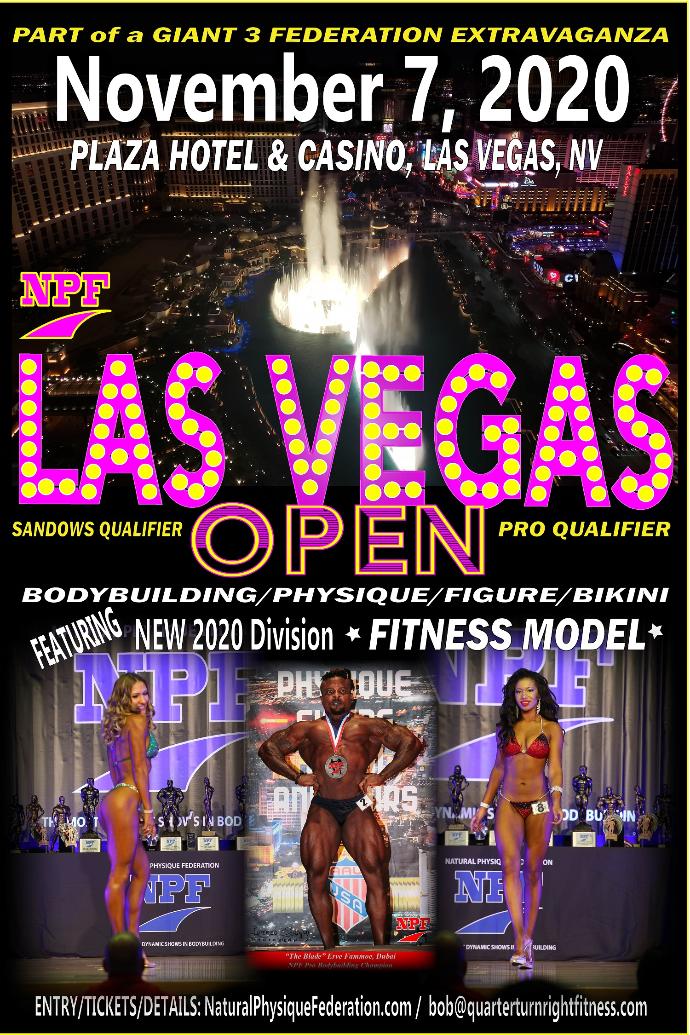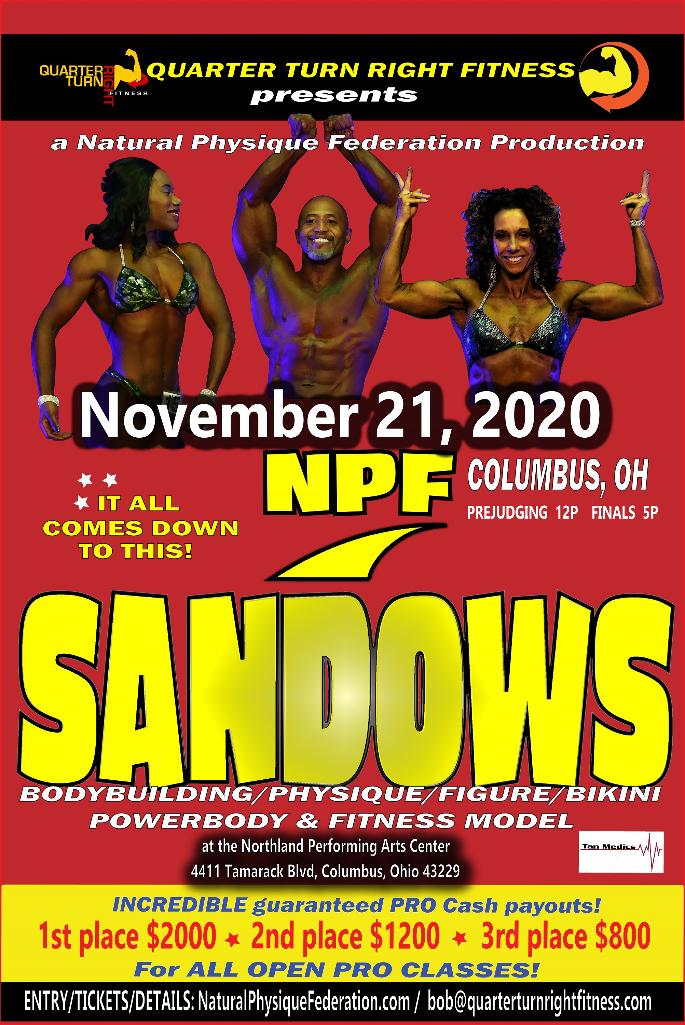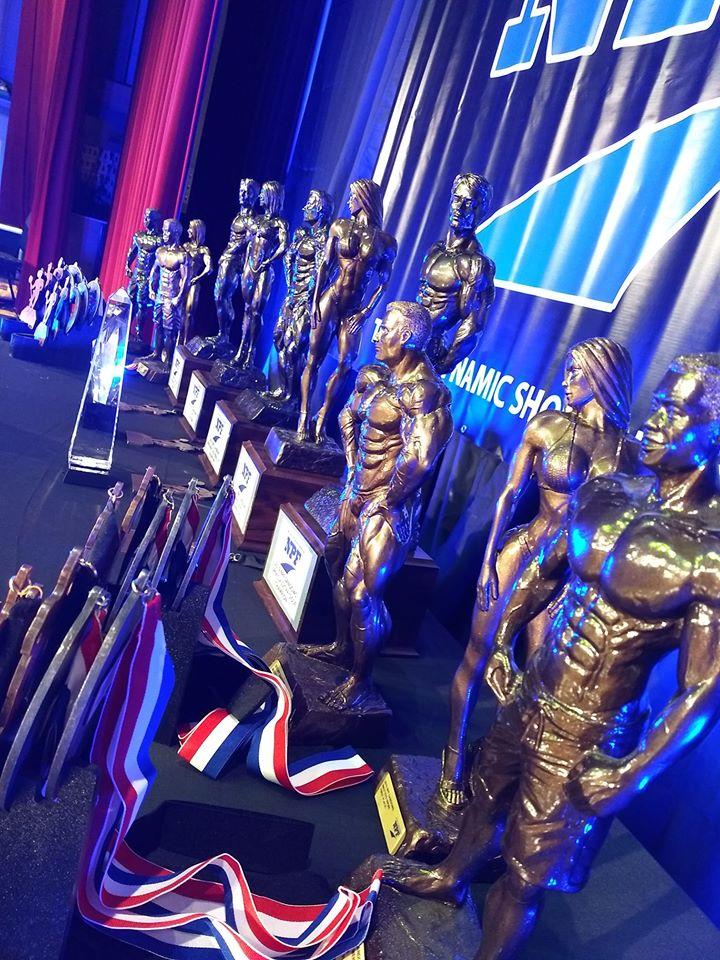 The NATURAL PHYSIQUE FEDERATION - The FUN League!
We put on the BEST shows in the biz!
Often imitated, never duplicated! We not only go out of our way to put on the best shows, we go to great lengths to stage them in the most unique and fun places! Welcome to the most complete drug free organization ever developed, the Natural Physique Federation. We've only been around since late 2016, but we were designed from the ground up with a full dedication to facilitating a complete career for you, the naturalcompetitor/athlete. We strive to provide you a platform that builds your brand, gains you followers and supporters, and puts you in the path for sponsorship and career opportunities - all while not having to turn to harmful, irreversible side-effect causing drugs.
3/1/2020 - NPF PRO Big Payouts Once again apply to 2020 PRO shows
Thanks to generous sponsors, contributors and supporters of the NPF, a much needed giving back to the athletes is possible and effective immediately. Starting with the May 30/31, 2020 Battle of Ohio and PRO Mr & Ms Natural Ohio, GUARANTEED payouts for PRO's are as follows:
FIRST PLACE - 2000.00
SECOND PLACE - 1200.00
THIRD PLACE - 800.00
****************************************************************************************************************************************************************************
12/17/19 - *AMATEURS NOW ELIGIBLE FOR CASH PAYOUTS!*

CRITERIA
Any athletes who finish in the top 3 of an amateur open class at NPF sanctioned contests will be immediately qualified to enter the equivalent pro class, therefore competing for a payout at that same contest.
KEY POINTS
• Said amateur athletes would be required to pay to enter the pro class at the given pro entry fee - but would NOT be required to purchase any additional memberships.
• First place finisher in an open amateur class is still eligible to earn an NPF PRO card.
• Furthermore, a third, or second place finisher, or a first place finisher who isn't awarded a pro card (due to class size not meeting minimum requirements AND not awarded on judges merit), at ANY and ALL amateur PRO/AM designated qualifier(s), is eligible to pre-register to compete in both amateur and pro classes at an NPF PRO/AM for given calendar year. An athlete may choose to do this as they may still be seeking to win a pro card, but also want to exercise their right to compete for cash. Once the pro card is earned, that athlete is then only eligible to compete in pro classes, and is no longer eligible to compete in amateur classes.
• This new NPF policy has no effect on our current PRO athletes. As we have since our inception, the NPF continues its policy of "once a pro always a pro." Therefore, there is no need to requalify for pro status, even after a long term layoff.
11/20/19 - *NEW CATEGORIES FOR 2020 UNVEILED AT NPF SANDOWS SHOW*
If you were not in attendance at the 2019 NPF Sandows you missed a sneak peak at the details of the TWO NEW divisions that are being added to 2020 NPF shows. If you missed it, weep not! Here they are:
NEW 2020 Divisions: Men's Power Body, Women's Power Body, and Fitness Model.
The Power Body classes, for both men and women, will encompass a lifting for total reps segment for the Prejudging portion of the show, then a physique round with comparisons and compulsory posing at Finals that will be judged live. Each athlete's scores from the lifting round will be combined with their respective points from the physique round to determine placings at Finals. The purpose of this division is to find the athletes who not only possesses a look of being fit, but also can demonstrate it...power and body!
The Fitness Model class, which was demonstrated at both Prejudging and Finals of the Sandows show, is a new division for the ladies only and features the competitor being judged at Prejudging while wearing basic workout attire, doing quarter turns and compulsories, then returning to the stage for Finals in an evening fashion dress to be onced again judged live. Scores will be combined from Prejudging and Finals to determine placings. The purpose of this division is to find and recognize the ladies who are best suited to be fitness models in our industry.
More in-depth information for these two new divisions will be forthcoming...
9/16/19 - NEW CATEGORIES TO BE ADDED IN 2020
Further info and specifics on these exciting new 2020 categories to be revealed in the coming days as well as at the 2019 NPF Sandows PRO/AM being held at the Fawcett Center Theater on the Ohio State Campus in Columbus, Ohio, November 16th.
2/22/19 - UNPARALLELED REWARDS FOR PREP COACHES ANNOUNCED!
Effective immediately, the NPF is giving back to our supporting prep coaches/trainers/gyms even BIGGER THAN BEFORE!
When you, as a coach, bring 5 registered athletes or more to ANY NPF event you will have just earned a FULL one year "Coaches Membership" to the NPF. This will get you the same benefits (without paying a single penny!) as our current VIP ALL ACCESS pass. Except, for not just the current show, but for a FULL YEAR!!!! This means...
• Attend any and all future NPF contests (up to one year from date that you received your coaches membership) with FREE admission to prejudging AND Finals - even if you come to the event alone just to watch or hangout with us!
• Receive a complimentary official contest tee shirt at any OR ALL of those contests that you attend.
• Access to all competitor check-ins
• Access to all competitor/athletes meetings!
As I have stated before, as a long-time prep coach myself I have an immense amount of understanding and respect for what you do. It's time to extend more than a passing nod or mumbled thank you!
............................................................................................................................................................................
1/06/19 - The 2019 NPF season is FAST APPROACHING!
For FULL INFO on pricing tap the REGISTER FOR EVENT link, then tap your show of interest, you can access the entry form, and by scrolling down, see all the pricing for membership, entry fee, classes offered, start times,etc.

BECOME A SPONSOR OF AN NPF EVENT
~ ALL SHOW START TIMES ARE 12P FOR PREJUDGING & 5P FOR FINALS UNLESS OTHERWISE NOTED~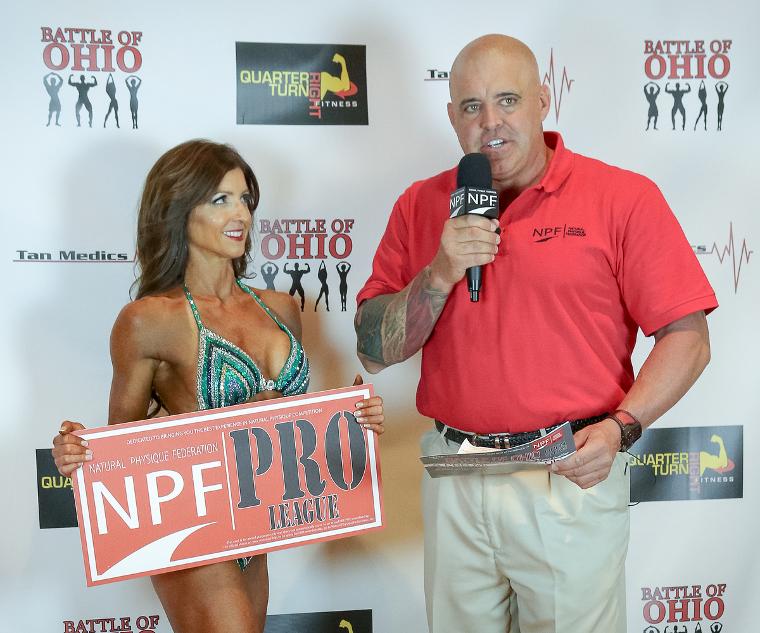 Host Tanner: Tan Medics have been tanning for the last 7 years at events throughout the Midwest. They feature a full service tanning experience with multiple coats of Custom Pro Competition Color applied between Friday night and Saturday morning, backstage gluing and glazing. Her team of professionals will be at both prejudging and finals so you rest assured your tan will look professional and fresh both morning and night the day of the event. See photos below for examples of this incredible stage color **You can begin securing your tanning appointment directly from your Online Registration Form** Once you have made your deposit you will then need to sign up for a time slot (based on availability) by using the TANNING SCHEDULE link.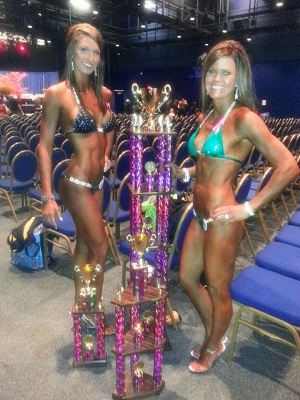 # 61 (2nd from left) in the photo below..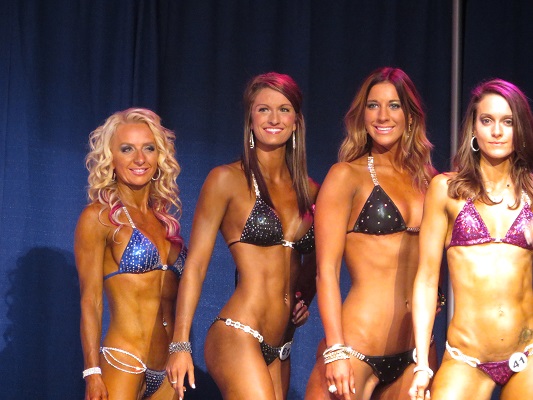 Far right in photo below..